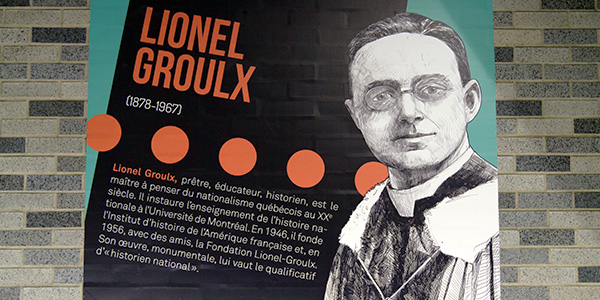 Several métro stations were named for people who played an important part in our history: Frontenac, LaSalle, Laurier… But who was Honoré Beaugrand? What did Édouard Montpetit do? And who is this Papineau, behind the  station's name?
In collaboration with Fondation Lionel-Groulx and with financial support from Québecor, the STM has installed commemorative plaques in 28 stations that were named after key individuals who marked Québec's history.
These 28 historical figures are also presented at Place-des-Arts station, along the Passerelle des Arts (mezzanine level), part of a larger exhibition entitled Le métro, véhicule de notre histoire.
Check out the platforms in those 28 stations and don't miss out on the exhibit on the Passerelle des Arts at station Place-des-Arts. There, you'll discover that the station was not named after Louis-Joseph Papineau, but rather after his father Joseph!
More information at the Fondation Lionel-Groulx website
Top of page