Electrification underway... Toward a 100% electric network
Latest news
The first of 30 long-range electric buses has passed the closed-course winter conditions test! Carried out on a specially prepared slippery or snow-covered road, the test pushes the bus's braking system, stability control and traction to the limits.
Testing under cold temperatures also allows us to better understand the bus's energy consumption and range in relation to its heating use.
40 new electric buses
In addition to the three electric buses currently running on the 36 Monk line, our fleet will soon be increased. Specifically, through a number of calls for bids, STM will acquire:
30 slow-charging electric buses, including a first series one, for the purpose of assigning them to different bus lines
4 standard, quick-charging electric buses to make the 36 – Monk bus route entirely electric
Four midibuses (30 feet), a mid-size vehicle bigger than a minibus yet smaller than a standard bus.
2 paratransit electric minibuses.
City Mobility - 3 quick-charging buses

36 - Monk
Our first fully electric bus hit the road on May 24, 2017. Today, three of these buses operate on the 36 Monk line, which in a few weeks will become the first fully electric line in Canada! 
Zero GHG emissions
Quieter ride
Air conditioned
Made in Québec

You wonder how these buses can run all day long? It's because they charge in 5 minutes max, at the begining and end of the line using a quick-charging station! How does it work? Find out in this video.
All customers of the 36 Monk line appreciate the new buses. Three-quarters of users feel the experience is even better than on regular buses.
City Mobility in images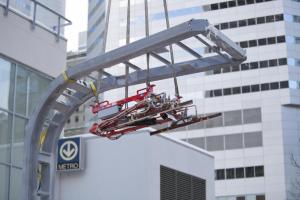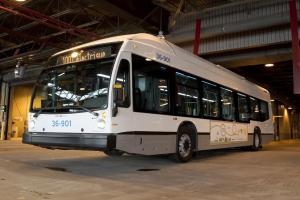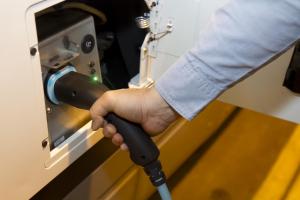 You have questions, we have answers!
For now, electric buses will only be operated on the 36 – Monk bus line, as the quick-charging stations are located at each end of the line.
Prior to choosing this method, a number of studies were conducted. We had to take several criteria into consideration in order to test a technology that met every aspect of our operating environment, for example, the transit experience for customers and drivers, service planning and delivery, maintenance, and more. Quick-charging technology using a pantograph is a proven method in Europe and it matches well with our needs, in addition to having proven itself under winter conditions.
How does it work?
It's a simple manoeuvre: once the bus pulls up at its stop and into position below the recharging station, the pantograph extends and lowers itself next to the roof of the bus. Through conduction, the batteries of the bus are recharged. Once done, the arm retracts itself and the bus turns around for its next run. The bus will charge up its batteries again at the other end of the line, over and over again, throughout the day. At night, buses are plugged into slow recharging stations that allow the batteries to be fully recharged.
New Flyer: a new long-range electric bus
The first of 30 new long-range electric buses has arrived at the Stinson garage! The remaining 29 buses will be gradually delivered starting in June 2020. 
For the first phase of testing, the bus will be outfitted with equipment to allow us to perform real-time monitoring and analysis of certain parameters such as power consumption, battery level, traction and braking in snow. 
Vehicle characteristics
Air-conditioned
Two spaces for wheelchairs
440-kWh Li-NMC batteries for a range of approximately 250 km
Roof rails allowing for conductive charging (slow charging)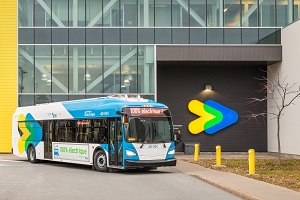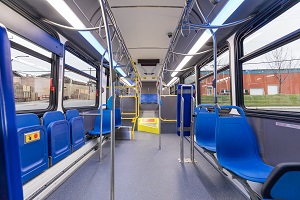 Electrification brings benefits
Reduction of the GHG emissions
Support the growth for Québec industries
Reduced dependence on oil
Use of clean (non-polluting) energy produced in
Top of page