Construction of the Bellechasse bus garage
Worksite reopening :
Since Monday, May 11, work has resumed at the worksite of the future Bellechasse bus garage. Naturally, the work is being carried out in accordance with health measures recommended by public health authorities and the Commission des normes, de l'équité, de la santé et de la sécurité du travail (CNESST).
Project summary
Located in the heart of the city, close to many transportation corridors, the new garage is part of our strategy for accommodating 300 new buses. It will also be equipped with the facilities needed to house a fleet of fully electric buses.
---
Duration of the work: Spring 2019 to spring 2020
Description of the work: Construction of a new bus garage
Métro impacts: No
Bus impacts: No
Impact on customer trips
There is no impact on customer trips.
Impact on local residents
Start of Phase 2
We still need to excavate deeper into the rock in some areas, including those where columns will be anchored into the ground to support the building. Their exact location was determined recently, along with the main excavation methods (blasting and mechanical equipment), with the advancement of the detailed design plan. The excavation should last until mid-August. For blasting work, the same safety measures will be in place as in previous months.
At the same time, we will be carrying out concrete work to build the foundations that will support the metal structure, or skeleton, of the bus garage.
As of September, the steel structure will be gradually delivered to the worksite.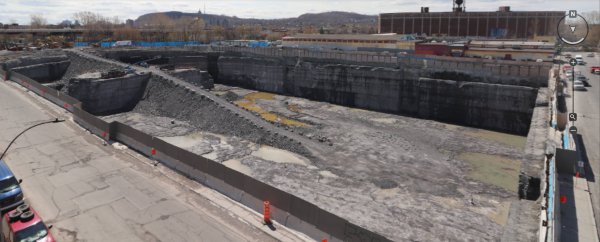 A photo of the worksite taken in May 2020. To date, as part of Phase 1 of the work, one million tonnes of rock have been removed from the 260,000 square foot area that will be the site of the Bellechasse bus garage.
Closing of the south lane of Bellechasse Street
In mid-June, the south side of Bellechasse Street will be closed to vehicle traffic between Saint-Dominique and De Gaspé. Bellechasse will become a one-way street going west between De Gaspé and Saint-Laurent. A detour will be set up for drivers. This street closure is needed to allow trucks to access the worksite. Please note that parking will no longer be available along this section of the street.
Closing of De Gaspé Avenue
De Gaspé will be closed along the worksite, between Bellechasse and Marmier, at the same time as the south lane of Bellechasse Street. Buildings on De Gaspé, including BIXI, will remain accessible at points including the parking lot next to BIXI. The dog park will also be accessible.
These two streets will remain closed until the work is completed in 2021.
What measures will be implemented to ensure safety around the worksite?
The construction site has already been fenced off, and blasting will be done within its perimeter.
Blasting mats have been installed over the rock to contain rock fragments.
Safety instructions will be posted around the site.
No explosives are stored on site.
A professional firm specialized in monitoring vibrations has been mandated to ensure compliance with the standards established by the City of Montréal and the STM.
During a blast, pedestrian and cyclist traffic will be stopped for a few minutes around the site.
Installation of carbon monoxide detectors: Gestion Monox Inc. has been mandated to install carbon monoxide detectors in buildings within 100 metres of the site. If your property is located in this area, Gestion Monox Inc. has gotten in touch with you. For more information about Gesiton Monox Inc.
What is the usual procedure for warning nearby residents that a blast is imminent?
12 whistle or siren sounds
30-second wait
Blast
One long whistle or siren sound
End of blasting
Schedule
In general, we plan on performing one blast per work day. The schedule, however, may vary depending on the progress of the work.
Will residents feel vibrations and hear noise?
Close to the worksite, residents may feel vibrations or hear noise when the blast goes off, which is totally normal.
Why are we using blasting for excavation?
The hardness and nature of the rock determines whether blasting is needed or not. When the rock is really hard, compact and large in size, it is very difficult to break it up using a method other than blasting. Given its efficiency, this method will reduce the duration of the work. 
During a blast, pedestrian, cyclist and vehicle traffic will be stopped around the site for only a few minutes. This is a totally normal procedure that ensures the safety of people moving around the worksite. Once the blast is over, traffic will be allowed to resume.
Bike and vehicle traffic on neighbouring streets
Bike and vehicle traffic will be stopped for approximately five minutes between 4 p.m. and 7 p.m. from Monday to Thursday and between 11 a.m. and 1 p.m. on Friday. This schedule will be in effect until March 2020. As the worksite is quite vast, blasting is carried out in precise areas that change from day to day. The traffic lanes affected by blasting work could change depending on the area of the worksite where blasting is taking place. Soon, traffic on Bellechasse, between Saint-Laurent and Henri-Julien, will be stopped for short periods of time.
Dog park access
The dog park will not be accessible for approximately 30 minutes between 4 p.m. and 7 p.m. from Monday to Thursday and between 11 a.m. and 1 p.m. on Friday. This schedule will be in effect until March 2020. One of our general contractor's employees is responsible for ensuring that no one is in the park during these times. A sign will be posted on the gate of the park indicating the hours when the park will be closed.
How will people be warned?
A few minutes before a blast, our general contractor's employees will go to predetermined locations and act as signal persons. For your safety, we ask that you follow their instructions.
Also, signs blocking off the sidewalks and bike path will be installed just before the blast. Please follow the signs.
We know that it would be easier if blasting happened at the same time every day. However, there are many factors involved in blasting, such as site preparation and equipment installation. This is why we have reserved periods of two to three hours for this work.
Inquiries are processed on a case by case basis. To make an inquiry, you must contact our customer service and submit an official complaint. A claim file will be opened with the contractor's insurer.
We can make vibration data public. We are evaluating the best way to make this data available.
As for air quality data, we do not produce any. Air quality is monitored on the spot when workers return to the site after blasting.
There is less dust in winter, and we are evaluating which dust management method to use.
During the construction, the contractor is responsible for planning and managing parking for workers so that maximum parking is available for local residents.Most of the workers park on the worksite.
We have a traffic plan that was approved by the borough, and truck drivers have been informed of the truck routes to use. We are working with the borough and the SPVM to ensure that trucks use the approved routes. We are monitoring this closely to ensure that the instructions given are followed and that trucks do not take residential streets.
In general, the work will take place from Monday to Friday, 7 a.m. to 7 p.m. It can, however, take place on the weekend in accordance with municipal by-laws. To view the borough's by-law, click here (in French only).
Casgrain Avenue is completely closed between Bellechasse and Marmier streets.
Access to the dog park is maintained (entry located on Marmier Street at De Gaspé Avenue).
We will give priority to trucks exiting and entering on Marmier Street to keep traffic on Bellechasse Street to an absolute minimum.
The bike path on Bellechasse Street remains open.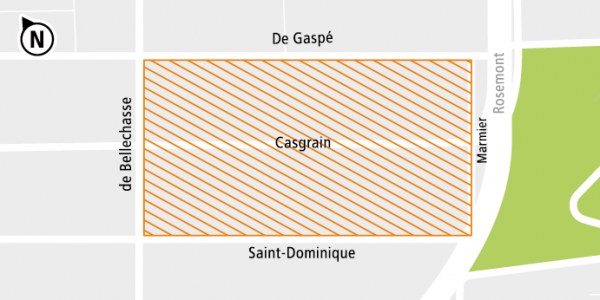 We have introduced a traffic maintenance plan, established by a specialized firm, for motorists, pedestrians and cyclists in the area.
An inspector will be on the worksite to ensure compliance with regulations on noise levels and work hours.
Water spraying will be carried out during demolition and excavation to reduce dust.
The metal fences surrounding the worksite have been replaced by wooden partitions. The partitions have been installed on three streets: Saint-Dominique, Bellechasse and De Gaspé.
The backup alarms on the contractor's machinery, such as power shovels and tank trucks (but not pickup trucks or trucks), have been replaced by broadband alarms. Unlike traditional backup alarms, broadband alarms broadcast low frequencies, which are much less audible outside worksites.
Texte important
An initial meeting was held on February 11, 2020, at the Bellechasse worksite. Members in attendance had the opportunity to talk with STM representatives, in particular about traffic around the worksite, noise and the next steps.
As part of a participatory process and in response to citizens' requests, we are setting up a good neighbourhood committee to ensure follow-up of cohabitation issues related to the Bellechasse worksite. The committee will allow residents living near the worksite to meet periodically with the people in charge of the project so they can receive up-to-date information and discuss their concerns during the work.
Stay informed about diligent management of nuisances generated by the Bellechasse  worksite according to the nuisance mitigation plan created by the STM
Ensure follow-up of cohabitation issues related to the Bellechasse worksite and propose mutually acceptable solutions aimed at reducing nuisances
Take an informed, third-party look at management of complaints about the project
Learn more about the project
The Bellechasse bus garage will be built on the block formed by De Gaspé Avenue and Bellechasse, Marmier and Saint-Dominique streets in Rosemont–La Petite-Patrie.
The Bellechasse bus garage will be innovative, functional and unique. Once complete, it will be the first bus garage in North America to be fully underground and equipped with the facilities to operate an entire fleet of electric buses.
The centre will have two connecting structures: an underground three-level garage where the buses will be parked and maintained and a one-storey ring-shaped building with lots of windows where administrative offices and employee facilities will be located. The ring-shaped building will also have a fire prevention station and a passenger revenue operational management workshop.
The centre's operations (bus traffic, maintenance and parking, and employee parking) will be located inside the building to reduce the impact on the neighbourhood.
There will also be a large green space accessible to the public.
The work will take place from spring 2019 to spring 2022. It will be carried out in two phases. The first phase will last from spring 2019 to spring 2020, and will involve preparatory work including building demolition, removal of materials and waste, soil decontamination and excavation of the rock bed.
The second phase will last from spring 2020 to spring 2022, and will involve construction of the new bus garage.
Putting buses on the road to provide daily transit service to customers
 Performing preventive maintenance and mechanical repairs on buses
Charging electric buses
Administrative offices and areas for maintenance employees and drivers
STM fire prevention station
Passenger revenue operational management workshop
Planning the bike path network is the City of Montréal's responsibility and not the STM's. We do not have a confirmed design plan at this time.
For the moment, buses will enter and exit on De Gaspé. A secondary, emergency exit has been planned on Saint-Dominique.
The building will have a high-quality environmental design. We aim to obtain LEED v4 Gold certification. The complex will incorporate:
Natural light
Universal accessibility
Building envelope with superior energy efficiency
Energy efficient mechanical and heat recovery system
Water catchment and recycling
Recovery of construction materials, when possible
Will there be parking for employees?
Once the construction is complete, there will be underground parking spaces for employees working at the new garage.
February 5, 2019: the project was presented to residents at an information session
February, 19, 2019: Participatory workshop held on the future public green space
May 1, 2019: Presentation of the project to the CCU for the PPCMOI
June 2019: The borough council of the Rosemont–La Petite-Patrie Borough held a meeting to confirm the PPCMOI and a public consultation was held by the Rosemont–La Petite-Patrie Borough.
The project in images
---
This work is made possible by funding provided by the Ministère des Transports du Québec and Infrastructure Canada.
We are aware of the inconvenience that this work might cause. Rest assured that we will do what is necessary to minimize the impact on our customers.
Top of page