Our social media

Facebook, Instagram, Twitter, YouTube and LinkedIn: let's stay in touch!
Behind the scenes, the latest news and exclusive contests on Facebook
Choose how you stay in touch with us! More than 80,000 subscribers follow us on our Facebook page for information, funny facts and other miscellaneous news happening in our bus and métro systems, and in others around the world, as well as exclusive contests posted on a regular basis.
Be one of us and join the movement: www.facebook.com/stminfo
Discover our Instagram account
What's in store? Surprising photos taken from our archives, exclusive contests and artistic snapshots of STM transit system, caught on the spot or shared by our members.
You'll likely get to know the system from the most unlikely points of view!   
Join us and share your best pictures of the STM transit system using hashtag #stminfo! www.instagram.com/stminfo
LinkedIn, a must to find out more about career opportunities!
More than 27,000 subscribers follow our LinkedIn page to stay updated about our career possibilities, but also about our major projects, actions in terms of diversity or about the next generation of workers. https://www.linkedin.com/company/societedetransportdemontreal
Go behind the scenes with YouTube!
Historic videos of AZUR's very first test runs, brief incursions in STM's secret world, or the latest news about our major projects, the STM will reveal itself to you! https://www.youtube.com/websharestm
Always with you while you ride transit: our Twitter feeds



For practical information about travelling with STM's transit system, bus and/or métro : @stminfo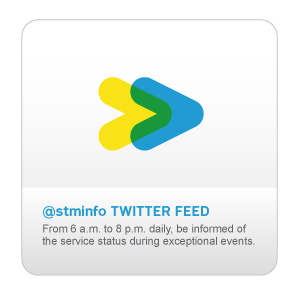 You want and need information when métro service is disrupted for more than 10 minutes? Subscribe to your choice of feeds!
For STM news and press releases on Twitter, subscribe to our news feed at @stm_nouvelles
Top of page