With the 10 Minutes Max network, no timetables needed! 
By ensuring a continuous and superior level of service on 31 bus lines, there is always a bus about to show up at your stop. 
The bus lines making up this frequent service network were selected among the most heavily-used ones that also provide customers with optimal geographic coverage, thereby offering them access to  frequent bus service within acceptable walking distances.
The 10 Minutes Max level of service applies in the direction with heaviest ridership on the majority of bus lines and is offered in both directions on the others. On weekdays, buses go by at 10-minute interval at most from 6 a.m. to 2 p.m. and/or from 2 p.m. to 9 p.m. 
The 10 Minutes Max network consists of the following bus routes:
10 minutes MAX network
Bus route
Direction offering a maximum interval of 10 minutes on weekdays
Métro station

18

Beaubien

Honoré-Beaugrand, Beaubien

24

Sherbrooke

Villa-Maria, Sherbrooke

32

Lacordaire

Cadillac

33 Langelier

Langelier

44 Armand-Bombardier

Radisson

45 Papineau

Papineau, Fabre

48

Perras

Henri-Bourassa

49 Maurice-Duplessis

Henri-Bourassa

51 Édouard-Montpetit

Snowdon, Université-de-Montréal, Édouard-Montpetit, Laurier

55

Saint-Laurent

Place-d'Armes, Place-des-Arts, De Castelnau, Saint-Laurent

64

Grenet

Côte-Vertu

67 Saint-Michel

Saint-Michel, Joliette

69

Gouin

Henri-Bourassa

80 Avenue du Parc

Place-des-Arts, Parc

90

Saint-Jacques

Vendôme, Atwater

97

Mont-Royal

Mont-Royal, Pie-IX

103

Monkland

Villa-Maria

105 Sherbrooke

Vendôme

106 Newman

Angrignon

121 Sauvé/Côte-Vertu

Côte-Vertu, Sauvé

136 Viau

Viau

139 Pie-IX

Pie-IX

141 Jean-Talon est

Saint-Michel, Honoré-Beaugrand

161

Van Horne

Plamondon, Outremont, Rosemont

165

Côte-des-Neiges

Guy-Concordia, Côte-des-Neiges

171

Henri-Bourassa

Côte-Vertu, Henri-Bourassa

187

René-Lévesque

Honoré-Beaugrand

193 Jarry

Jarry

197 Rosemont

Langelier, Rosemont

406

Express Newman

Angrignon

470 Express Pierrefonds

Côte-Vertu
10 Minutes MAX network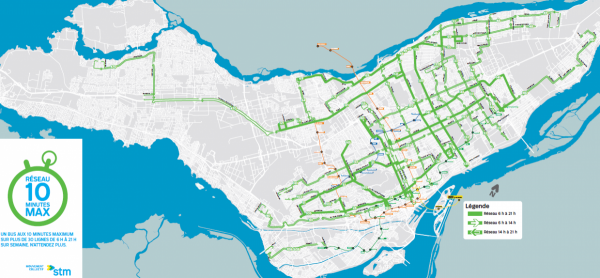 10 Minutes MAX network (PDF 2.9 Mo)
Identifying a 10 Minutes Max network bus route
.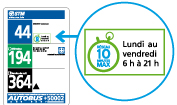 The symbol on the bus stop panel identifies the bus route and specifies the time frame covered by the 10 Minutes Max network.
Top of page