Construction of the Towers mechanical ventilation station
Project summary
As part of our program to refurbish métro infrastructure, we are building the Towers mechanical ventilation station, located on its namesake street between De Maisonneuve and Sainte-Catherine.
The new structure will replace an older station, set to be torn down once the new one is operational. Built during the second half the of the 1960s, the station has now reached the end of its service life and must be replaced. Our project involves building a new, quieter and more efficient ventilation station that meets the new safety standards and complies with City of Montreal noise bylaws.
---
Duration of the work: October 2017 to spring 2021
Description of the work: Construction of a new mechanical ventilation station
Métro impacts: No
Bus impacts: No
Impact on customer trips
This project has no impact on customer trips.
Impact on local residents
Texte important
Latest news
The new station's structure can now be seen from the street, as we are starting the walls of the basement's first level.
In the next few weeks, we will start to reassemble the Victorian house that will surround the ventilation station. Once the weather warms back up next spring, we will install the house's exterior and conduct landscaping.
Due to constraints related to COVID-19 (spring work shutdown, physical distancing requirements), work has slowed down at the Towers site, and we have fallen slightly behind schedule and would like to catch up.
As a result, work will be done on Saturdays beginning on October 10. Some activities may produce noise, due to the machinery used for electrical work, reinforcement, and formwork.
We are aware of the inconvenience this work may cause you. We are doing our work in a way that ensures as much peace of mind as possible for people living near the site. However, there are several construction sites around Towers Street which are not related to our work and for which we are not responsible.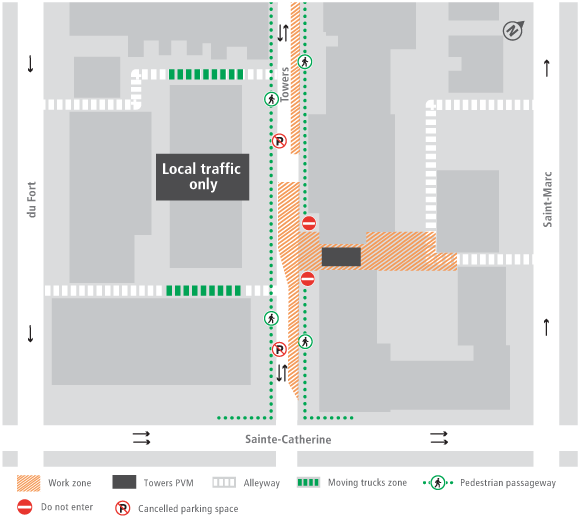 Since April 9, 2018, only local traffic has been permitted on Towers Street, between Sainte-Catherine and De Maisonneuve. Vehicles turning onto the street from Sainte-Catherine will have to exit back onto Sainte-Catherine, and vehicles turning onto the street from De Maisonneuve will have to exit back onto De Maisonneuve.
 The two parking lanes on Towers Street are closed between Sainte-Catherine and De Maisonneuve. In total, 10 on-street, permit parking spaces for residents were cancelled for the project. Holders of city parking permits can find other spaces on nearby streets.
Part of the alleyway linking Towers and Saint-Marc streets is closed to traffic.
The entrance to the private parking lot on Towers will remain accessible.
Pedestrian traffic:
The sidewalk on the east side of Towers is closed next to the worksite. Some sections of the road are accessible to residents only. Entrances to buildings are accessible at all times. We recommend taking the sidewalk on the west side, opposite the worksite.
Bicycle traffic:
Given the size of the worksite, we recommend that cyclists exercise extreme caution and avoid that stretch of Towers Street.
Texte important
If you are moving, please contact your respective building managers. They will be able to contact the project managers to facilitate access for moving trucks.
During the construction work on Towers Street, please comply with the following procedure.
Moving vans and trucks can park in either one of two alleyways between Du Fort and Towers streets while they are being loaded or unloaded.  
Access to alleyway A will depend on the size of the moving truck.
For alleyway B, trucks must back into the alley from Du Fort and leave by Du Fort.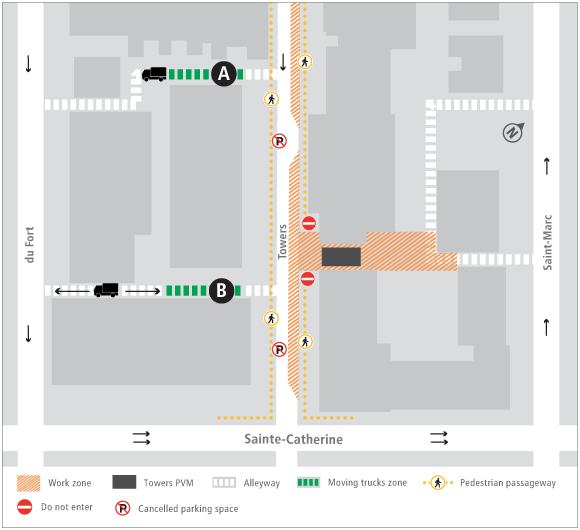 For odd-numbered addresses, the contractor (Construction Sorel Ltée) is responsible for these activities.
For even-numbered addresses, the borough is responsible for snow removal. If you have any questions, you can contact the borough.   
Any construction work likely to generate noise will be scheduled between 7 a.m. and 7 p.m. on weekdays. In accordance with municipal regulations, some work may at times have to continue over the weekend to keep the project on schedule.
Excavation work will produce vibrations that may be felt by residents living next to the worksite. We have hired an independent consulting firm to survey all buildings (photographs) around the worksite. The inspections will serve to document the condition of buildings before and after construction. In the unlikely event that any damage is reported, an expert opinion could help determine whether the damage is the result of the vibrations produced by the project. Property owners concerned by the inspections will be notified accordingly.
A traffic and signage plan was prepared by an expert firm in collaboration with representatives from the Ville-Marie borough, the City of Montréal, the Ministère des transports, the Sécurité publique and the Montréal fire department. The plan will minimize the impact of construction on vehicle, bicycle, pedestrian and emergency services movements.
---
Learn more about the project
A mechanical ventilation station is a large infrastructure located between two métro stations that is equipped with two powerful fans designed to extract hot air from the métro system through inlets fitted with air vents. Ventilation stations built for the original métro system extract around 60,000 cubic feet of air per minute, while the new ventilation systems extract around 240,000 cubic feet per minute. Huge noise suppressors mitigate the noise from these fans to ensure quiet for residents living close to a ventilation station.
The ventilation station will be erected on the site where a Victorian-style house currently stands. In light of the building's heritage character, its facade has been taken down carefully, according to a protocol developed by a specialized firm. Each component was tagged and stored in a reserved area. Once the work is over, the facade will be rebuilt. Any unsalvageable components are to be replaced by similar reproductions to respect the Victorian era's distinct architectural style. We made sure that all necessary authorizations were obtained for this project.
1. Preparation of worksite
Fencing off the work area
Installing work equipment
Demolishing the existing building while salvaging all elements making up its facade
Approximate timeframe: 2 months
2. Excavation at ground level
Approximate timeframe: 3 months
3. Excavation in the rock bed
Micro-blasting will be required to break into the rock bed
Approximate timeframe: 14 to 16 months
4. Installation of a membrane to ensure water-tightness of all infrastructures
Approximate timeframe: 3 months
5. Concrete work for ventilation station
Concrete work for all infrastructures
Approximate timeframe: 8 months
6. Installation of mechanical and electrical equipment, as well as architectural finishes and exterior design
Delivery of equipment to worksite
Installation of equipment
Performance testing on mechanical equipment
Construction of ventilation station's external structure
Approximate timeframe: 4 months
---
---
This work is made possible through funding from the Ministère des Transports du Québec.
Top of page