Work on escalators
Escalators under repair
With a constant view to improving your transit rides, we are set to refurbish and/or replace 63 sets of escalators in the métro network. Work will begin in June 2016.
An escalator running upwards should be available at all times, whenever possible, in an effort to facilitate your transit experience while work is underway.
24 new escalators
Seven métro stations will be equipped with the new escalators. The older ones being replaced were chosen because of their age and the structural work needed to support the new escalators. Work in these stations should be kept to a minimum. Some of the escalators at Saint-Michel, Édouard-Montpetit, Jean-Talon, Namur, Côte-des-Neiges, de la Savane and Fabre stations will also have been replaced.
Major refurbishment of 39 escalators
These escalators will undergo a major refurbish, using a combination of new and reconditioned spare parts. These escalators were chosen because of their 30-year average age.  Some escalators inside Côte-Vertu, Jean-Talon, Outremont, Acadie, De Castelnau, Fabre, D'Iberville, Bonaventure and McGill stations will bee refurbished
Start of works : March, 26, 2019
Type of work: Major refurbishment
Escalator: Linking the fare booth level to the walkway level. This is the second of three escalators from the fixed staircase.
Alternative route: Normally, the other two escalators run upwards.  During the work, the escalator adjacent to the fixed staircase will run downwards, while the other, adjacent to the wall, will run upwards
Service to resume : June 17, 2019
Type of work : replacement of an escalator
Escalators : escalator leading from Côte-Vertu platform to Snowdon train platform
Alternative route : other escalators located nearby remain operational
Service to resume : January 2019
---
Start of works : January 14, 2019
Type of work: Major refurbishment
Escalator: it leads from Montmorency platform to Snowdon platform. This is the staircase adjacent to the wall.
Alternative route: the adjacent escalator will, as usual, run upwards.
Service to resume : April 2019
Start of works : April 10, 2019
Type of work: Major refurbishment
Escalator: Linking the street level to the mezzanine level
Alternative route: The other escalator will run upwards.  The doors on Jean-Talon Street will be closed for the duration of the work. You can use those on Décarie Boulevard.
Service to resume : End of Septembre, 2019
24 new escalators : Work is made possible thanks to funding from the Ministry of Transport and by Infrastructure Canada as part of the Canada-Québec Building Fund.
Major refurbishment of 39 escalators : Work is carried out thanks to funding provided by the ministère des Transports du Québec.
Complex work
The project will help improve the reliability and efficiency of escalators.
Extracting the existing escalator
Dismantling and removing over 1500 parts, including anywhere from 74 to 154 individual steps, without damaging surrounding structures.
Salvaging all reusable parts.
Laying the groundwork
Reinforcing the structure, if required, as the new escalators are heavier.
Moving some conduits.
Installing the new escalator
Manipulating large, heavy parts that must be precisely positioned in tight spaces.
Assembling and adjusting all parts
Precise assembly work (the escalator must be straight along its full length)
Mechanical adjustments (brakes, tension of pull chains, etc.)
Programming adjustments (vitesse de veille, etc.)
Performing qualification tests
Rigorous testing
One month period of operation without passengers to confirm performance of each new model and ensure compliance with strictest safety standards
Final approval for operations
Extended shutdowns
Most of the escalators in the underground system were replaced over the past few years. However, there are still some sixty escalators that date back to the métro's expansion in the 70s and 80s. And when they break down, repairing them is rather more complicated. Spare parts are harder to obtain, causing further delays.
The reasons behind escalator shutdowns
Incidents involving improper use are the main reason why escalators are out of service. For example, items are dropped and get stuck in the stairs or people fall down, requiring the escalators be stopped. Improper use by people, like sitting on the moving handrail or pressing the emergency stop button for no good reason, is also a frequent cause.
Maintenance crews on the job
If an incident has little or no repercussion on an escalator, it can be started up again quickly by a station employee. On the other hand, if there is any chance the incident has damaged or otherwise compromised the escalator's integrity, the equipment must be shut down until specialized mechanics can inspect it and perform any necessary repairs or adjustments before putting it back into service.
Impressive equipment
The STM's underground system holds 296 escalators and with 250 million passenger trips through the métro each year, these units are subjected to heavy use. Furthermore, several escalators are located next to entryways, exposing them to harsh weather conditions and temperature changes
FAQ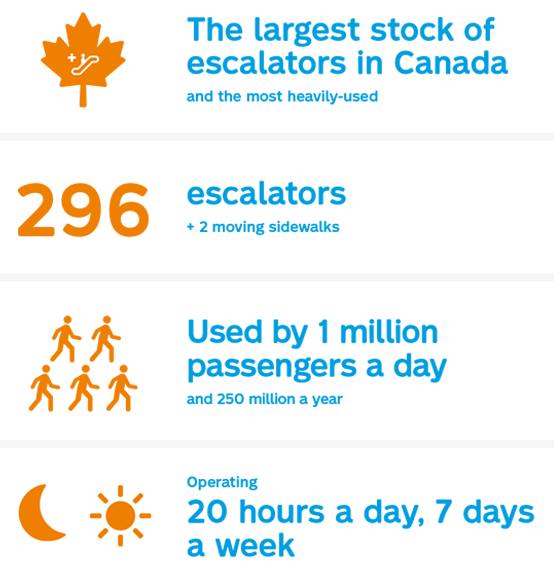 Maintenance staff is not always visible, because much of the action takes place….below! Customers only get the see the stairs, whereas all other components, including the motor, are located underneath the stairs.
No, they are subject to preventive maintenance and are regularly inspected.
Top of page