Étoiles du métro

The STM, proud partner of the arts
Making your transit rides more enjoyable while showcasing new talent was the goal prompting us to launch our "Étoiles du métro" program in 2012. Each year, musicians wishing to take part in the program audition for access to the seven transit system locations reserved exclusively for "Étoiles" or "Star" musicians. The STM and the Regroupement des musiciens du métro de Montréal regularly promote these artists, both in the métro and at major events around Montréal.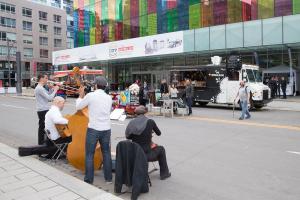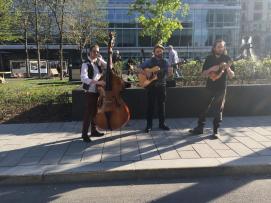 Musical performances - Union internationale des transports publics (UITP) Global Summit.
Palais des Congrès de Montréal-Place Riopelle- May, 2017.
Auditions
Interested in having your light shine in the métro?
Auditions are over for now… come back next year!
Seven specially designated areas exclusively reserved for star musicians
Access to the performance reservation calendar for no worries and late risers
A portable personalized banner to be installed in the designated area
The chance to perform in over ten major events held in Montréal by STM's partners
Promotional support for musicians throughout the year in STM's bus and métro network


Discover our stars for 2017 :
Anthony Lovison
Corcovado Trio
Flash-Back 57/97
Gerry Cabot
Laura Houel
Lilah Woods
Lucìa Sànchez
Lucie N friends
Manouche Montréal
Marc Soucie
Mr. Pöng
Orange Mist
Pavel Pfander
Phil ou Le pêcheur
RAYMI BAMBU
Rosita Hendry
Sarah
Stéphane Lemieux
The FiringSquad
Thomas
Top of page