The waterfront 211 Bord-du-Lac and 212 Sainte-Anne.
The West Island from one end to the other.
''This line along the lake is absolutely magical. You pass through two towns and it's very relaxing. At the end of the line, at Sainte-Anne-de-Bellevue, several activities are available for those who love the water.'' - Sylvain Tremblay, bus driver
The 211 Bord-du-Lac is the longest route in our network. It connects Sainte-Anne-de-Bellevue and Lionel-Groulx métro station on the Orange line, passing through various communities in Montréal's West Island. Between Lionel-Groulx métro station and Pointe-Claire, the bus travels along a section of highway to reach the most interesting part of the route more quickly.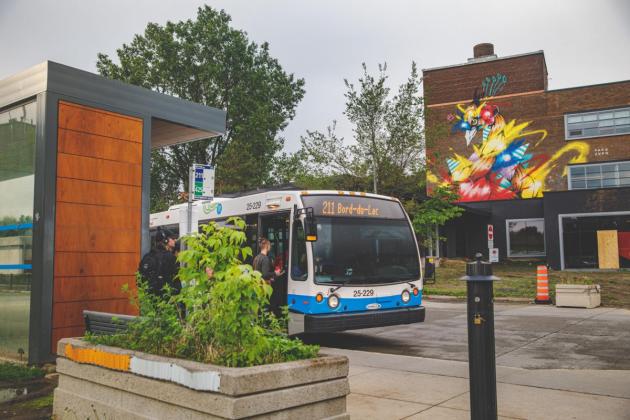 © Simon Laroche
After a few stops in the municipality of Dorval, you'll catch sight of Lake Saint-Louis from Pointe-Claire. The river widens in this area, giving it a maritime feel.
Next, the bus will turn onto Beaconsfield Boulevard to pass through the municipality of the same name. Along this bustling main street, you're never far from the water. At some points, like Centennial Park, walkers can access the shoreline via serene parkland.
From Baie-d'Urfé to Sainte-Anne-de-Bellevue, you'll travel along Lakeshore Drive which, as its name suggests, runs along the water. Across the river, you'll have a view of Perrot Island.
Sainte-Anne-de-Bellevue
At the westernmost terminus stop of the 211, you can hop on board the 212 to bus through the charming municipality of Sainte-Anne-de-Bellevue. If you prefer, you can explore the area on foot and take the bus back. With its locks and boardwalks, it's sure to feel like a whole other world for city dwellers. Many pleasure craft sail through the Sainte-Anne-de-Bellevue Canal, and its banks have been beautifully designed.
The area is also home to educational institutions such as John Abbott College, McGill University's Macdonald campus, the Ecomuseum Zoo, and even an aviation museum. You'll feel worlds away from downtown Montréal—and all for the price of a two-way bus ticket. A big getaway for a small price!
Top of page