The prestigious 24 Sherbrooke.
From La Fontaine Park to Notre-Dame-de-Grâce.
© Simon Laroche
You can start by boarding the 24 bus line heading east at Villa-Maria métro station on the Orange line. You'll travel along Décarie Boulevard before reaching the Notre-Dame-de-Grâce, known simply as NDG, portion of Sherbrooke Street, a bustling, lively commercial and residential area.
Next comes the City of Westmount. The bus will take you past Westmount Park where you'll glimpse an array of buildings housing institutions such as Victoria Hall and Westmount's magnificent library, before the stately city hall building comes into view. After this lush, green area, you'll cross Greene Avenue, with many cafés and restaurants that invite passers-by to linger a while.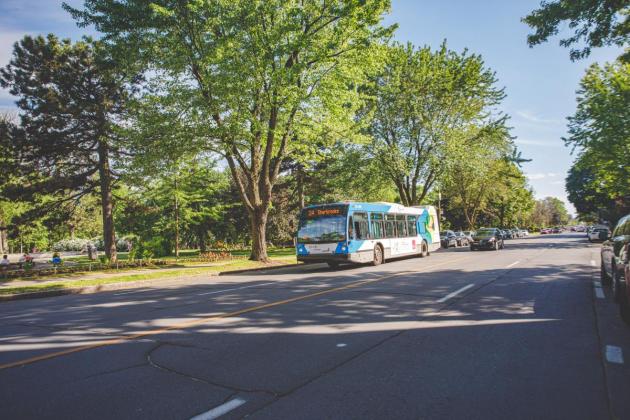 © Simon Laroche
Soon after, you'll travel past Montréal institutions such as Emmanu-El Beth Sholom synagogue and Dawson College, to reach another historically famous part of the city: the Golden Square Mile. Long known for its spectacular architecture, the neighbourhood is still studded with majestic homes. You'll see other major institutions along the way, including the Montréal Museum of Fine Arts, with its buildings installed on both side of the street, the McCord History Museum and the renowned Ritz-Carlton hotel.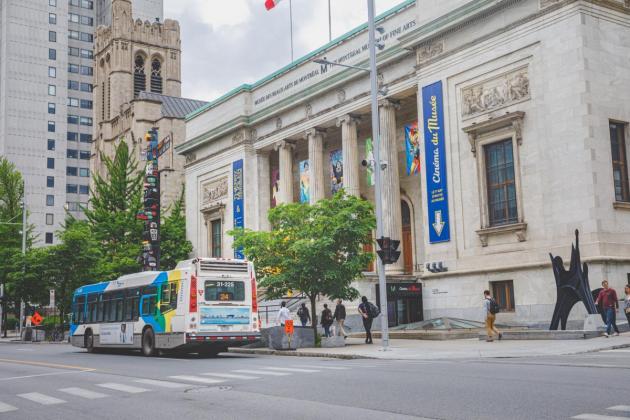 © Simon Laroche
Once you reach Saint-Denis Street, you'll be only steps away from Saint-Louis Square, a picturesque area whose lovely facades have inspired many artists, including writers and musicians. A little further east, you'll come to the one-and-only, ever beautiful La Fontaine Park, where you can end your trip or begin it. With its sports fields, public art and walking paths, La Fontaine Park is a vibrant part of Montréal life. It's a lovely place to spend a few hours and the perfect point to start or end a discovery tour on the 24 bus line.
Discover more about the prestigious bus line 24 by listening to our podcast! 
Top of page