The electrifying 36 Monk.
From downtown to Sud-Ouest
The past, present and future collide along the route of the 36 Monk. This bus passes through some of the city's oldest and most exciting neighbourhoods. It was also the line selected to test the three fully electric buses for the Cité Mobilité project, which is why there are impressive fast-charging stations at the line's two terminus stops at Victoria Square and Angrignon Park.
© Louis-Étienne Doré
If you're lucky, you'll end up on one of these ultra-quiet buses. But never fear, you'll enjoy the trip just as much on a regular bus! Victoria Square, with its famous Paris métro station entrance, is a lovely place to wait for the bus to arrive. Once on board, you'll travel down Saint-Antoine Street, where you'll soon be surrounded by some of the landmark buildings of downtown Montréal: Place Victoria (the former Tour de la Bourse), Place Bonaventure and 1000 De La Gauchetière. Don't be surprised to see a number of buses from other transit authorities, as this is where they end their routes before returning to the suburbs.
After Peel Street, you'll pass the majestic Windsor Train Station and then the renowned Bell Centre, now surrounded by luxury high rises. You'll go down Guy Street to reach Little Burgundy, a far less affluent neighbourhood perhaps, but one with a rich history nevertheless. It was the birthplace of legendary jazz musician Oscar Peterson, who appears on a Roadsworth mural at the corner of Saint-Jacques Street. On Notre-Dame, there's no lack of trendy restaurants, as well as shops that hark back to the area's former status as the antique district of the city. Near Charlevoix Street, you'll see the lights of the old Corona Theatre's marquee glittering once again.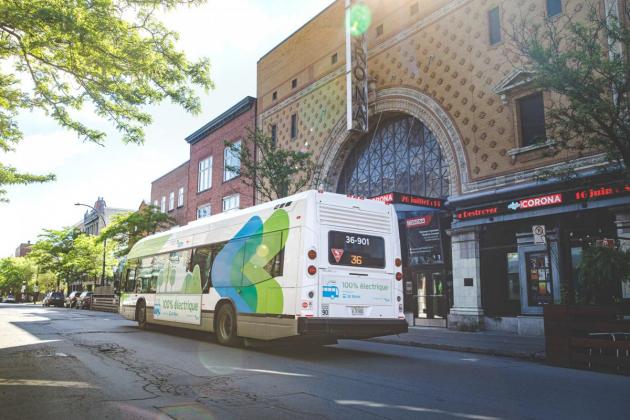 © Simon Laroche
West of Atwater Avenue and the famous Atwater Market, you'll enter the neighbourhood of Saint-Henri. This part of Notre-Dame Street was entirely overhauled a few years ago, which makes the route even more pleasant today. At Sainte-Marguerite Street, the bus loops up to Saint-Jacques Street to stop at Place-Saint-Henri métro station, on Orange line so don't be surprised when you pass a few shops on Notre-Dame Street for the second time! Though it has undergone many changes since the days of Gabrielle Roy's novel Bonheur d'Occasion, Place Saint-Henri still has a certain feel about it, if only for its Art Deco fire station.
After an unavoidable trip under the new Turcot Interchange (a lot less scary than the old one), the bus crosses the Lachine Canal by way of Monk Boulevard. This is another of the area's main streets, and though it is less of a tourist destination than Notre-Dame Street, it has some lovely shops just the same.
At the end of Monk, the bus drives momentarily along the Canal de l'Aqueduc before turning onto Des Trinitaires Boulevard. Here, you can't miss Angrignon Park, a huge green space enjoyed by both local residents and Montréalers from all across the city. It's a popular picnicking destination on beautiful summer days. Why not join in the fun?
Top of page