The classic 55 Boulevard Saint-Laurent.
From one river to the other.
You'll start in the historic streets of Old Montreal and go north past the lively street vendors of Chinatown. Next, you'll cross Sainte-Catherine, Sherbrooke and Duluth streets with their trendy, original and jam-packed bars, shops and more.
Around Rachel Street, you may get a whiff of Portuguese chicken grilling. This is the heart of the Plateau, a densely populated neighbourhood that's always bustling with activity, especially on Mont-Royal and Laurier avenues.
© Tourisme Montréal, Marie Deschene
Soon you'll be in the Mile End, an eclectic area with shops displaying art, furniture, clothing and much more in their windows, in addition to lots of bars and restaurants. There's so much going on here!
In Little Italy, rain or shine, the red, white and green flags decorating the cafés and trattorias give this part of the city its own special feel. You'll be close to Jean Talon Market, one of Montréal's oldest public markets, where marketgoers get to choose from an abundance of fresh produce.
© Simon Laroche
Heading further north, you'll look out over the grassy expanse of Jarry Park, a peaceful green space nestled among the Villeray vibrant neighbourhood.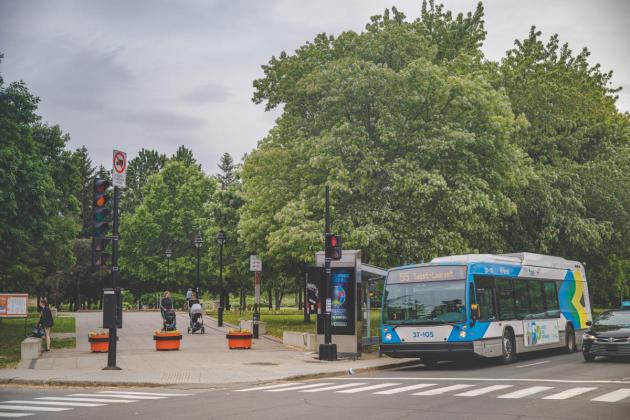 © Simon Laroche
The surroundings will change as you reach Chabanel Street, where warehouses point to the area's industrial past and recent developments reflect a resurgence of activity in Montréal's Garment District. This area is a popular shopping destination, as well as a residential and working neighbourhood.
The journey will come to an end in Ahuntsic, a residential neighbourhood whose main street, Fleury, bustles with shops, restaurants and businesses, all within walking distance of one another. Here is Montréal life at its fullest!
At the terminus stop on Millen Street, you'll get off just a few steps from Rivière des Prairies and the peaceful green spaces that line the water's edge. It's the perfect place to rest for a while before going back or setting out if it's just the beginning of your tour. Whether you're heading north or south, Saint Laurent Boulevard is Montréal at its finest, and taking the 55 is the way to see it all!
Discover more about the classic bus line 55 by listening to our podcast!
Top of page