The elegant 66 The Boulevard.
From Westmount to Côte-Saint-Luc.
''This line is interesting with its view on the side of Mount Royal and beautiful vintage buildings.'' - Nelson Cunha - bus driver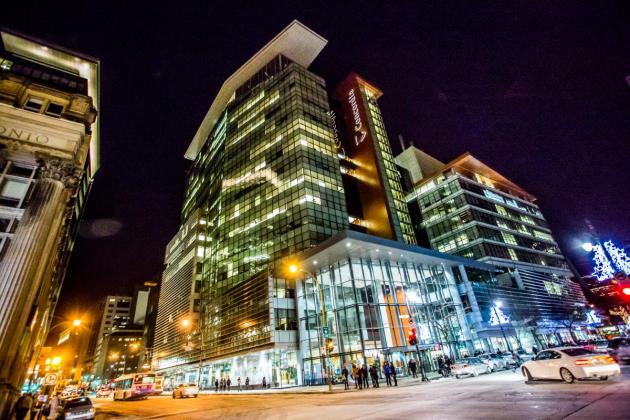 © Université Concordia
Hop aboard the 66 at its southern terminus stop near Guy-Concordia métro station on the Green line. The bus will begin its climb up Chemin de la Côte-des-Neiges, a packed and lively area with a real downtown feel, before turning onto The Boulevard, a thoroughfare that runs along the top of the City of Westmount. The road is steep here too—you'll feel like you're scaling the mountain.
At the corner of Chemin de Trafalgar, you'll be close to Chemin Belvédère, from where you can walk to Summit Woods park. Walkers be warned: it's a steep slope! But it's worth the effort when you reach the lookout above the city. The view from here is magnificent, and in good weather, you can see all the way across the river.
© Simon Laroche
Back on the 66, there's much to discover along The Boulevard until Décarie. Between beautiful private homes, you'll catch glimpses of old stone walls and stairs leading from one street to another, which give the neighbourhood a truly special feel. After Victoria Street, The Boulevard turns into Chemin de la Côte-Saint-Luc.
© Simon Laroche
At Décarie Boulevard, you'll be a short walk from Snowdon (Orange and Blue lines) and Villa-Maria (Orange line) métro stations. From this point, the ambience changes. This is where the municipalities of Hampstead and Côte-Saint-Luc meet the neighbourhood of Notre-Dame-de-Grâce. The houses have high, lovely facades that give the street a New York City feel at times.
The line ends near the border of Côte-Saint-Luc and Notre-Dame-de-Grâce. Close by, on Fielding Street, you can catch the 51 Édouard-Montpetit to get to Snowdon métro station by another route or take the 66 in the other direction to cross the elegant streets of Westmount a second time.
Top of page