The historical 715 Vieux-Montréal / Vieux-Port.
Around Montréal's historic quarter.
This route can be enjoyed by bus or on foot. You can choose your starting point as this line links two busy métro stations: Berri-UQAM and Bonaventure. Between them is Old Montreal and Cité du multimédia.
Leaving from Berri-UQAM station, you'll be surrounded by one of Montréal's knowledge hubs with the buildings of the Université du Québec à Montréal (UQAM) and the Grande bibliothèque's recent building. This is also a lively part of Quartier des spectacles with Place Émillie-Gamelin, which becomes Les Jardins Gamelin in the summer and hosts a variety of events and concerts for passers-by.
© Tourisme Montréal - Marie Deschene
Next, the 715 will enter Old Montréal on Berri Street, turning onto De La Commune. Famous, popular and busy for many reasons, De La Commune is definitely one of the most picturesque streets in Old Montréal, if not the entire city. It is the gateway to the Old Port of Montréal and the historic quarter's main street. You'll cross De La Commune if you want to get to the quays, walk in the streets of Old Montréal, sit on a terrace, or go to Pointe-à-Callière museum, the Science Centre, or the IMAX theatre, and so much more.
© Simon Laroche
After De La Commune Street, the bus will turn onto McGill to travel down a section of Wellington. This is an area that has changed a lot in the past few years as a municipal real estate project has drawn technology businesses to the neighbourhood. From the Montréal of the past, you'll move into the Montréal of the future.
Next up is Griffintown, another recently developed area of the city. On either side of Wellington and Peel streets, which the bus will take until it reaches its terminus, you'll see brand new real estate projects.
Once you pass Saint-Jacques Street, you'll go up a slight slope to finish in the heart of downtown in Dominion Square. Here you'll find the Montréal Tourist Information Bureau, the perfect place to learn everything there is to do and see in Montréal. Nearby, you'll see people walking in lovely Dorchester Square. On one side of the square the imposing SunLife building stands as a relic of the city's past, while on the other side office towers stand tall, symbols of the current vitality of Montréal and its residents.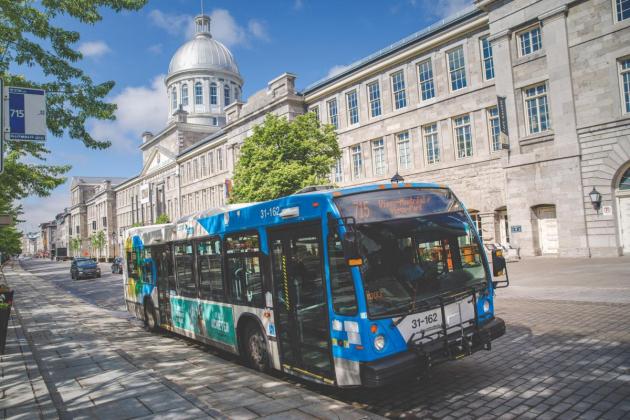 © Simon Laroche
Top of page