The summertime 767 La Ronde / La Plage and 769 La Ronde.
From one island to another.
Bridge and amusement park
The 769 has two stops and is the only bus in the network to cross over the Jacques Cartier Bridge. An iconic feature of Montréal, this bridge has been even more striking since it was fitted with lights that come on after dark. At night, there's something magical about crossing the bridge beneath the lights. During the day, the bridge provides a unique view of Montréal and the river, letting you see the city from high up.
© Canadian Tourism Commission, Pierre St-Jacques
The 769 has its Montréal terminus stop at Papineau métro station on the Green line in the Centre-Sud neighbourhood. This densely populated residential area is home to a number of Montréal and Quebec institutions, including several media companies, such as TVA and Radio-Canada. Near the station, from Papineau Avenue onward, Sainte-Catherine Street is turned into a pedestrian street for a large part of the year, from spring to fall. Head down Sainte-Catherine to discover—or rediscover—the Village on foot.
As its name suggests, the 769 has its other stop at La Ronde, the large amusement park known to all Montrealers.
© Simon Laroche
Beach and park
By connecting Jean-Drapeau station to Jean-Doré Beach, the 767 also connects two islands: Sainte-Hélène and Notre-Dame.
On these two islands, visitors can easily spend hour upon hour exploring the various attractions in vast Jean-Drapeau Park. It has the Biosphere, public art, a museum, the Gilles-Villeneuve Circuit, the Floralies Gardens, the Olympic Basin and a breathtaking view of the city—and that's not all! 
Jean-Doré Beach is at the southern tip of Notre-Dame Island. You can opt to discover part of the 767's route on foot or walk it entirely in one direction or the other. Whatever you decide, there's so much to do and see on the islands. This summer, don't forget your bathing suit!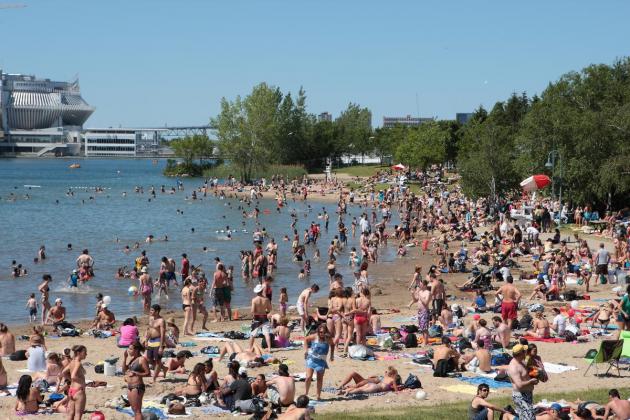 © Gilles Proulx
Top of page