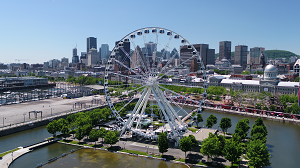 La Grande roue de Montréal
362 de la Commune Street East
Montreal, QC H2Y 0B4
(Enter the Old Port via Quai de l'Horloge street)
Champ-de-Mars (exit through pedestrian tunnel - to Old Mtl)
---

715 E. (stops de la Commune / Jacques-Cartier and de la Commune / Bonsecours)
715 O. (stop St-Laurent / de la Commune
La Grande roue de Montréal
25% off adult, senior, student and child tickets
La Grande Roue de Montréal brings you an unforgettable experience in gondolas that are tempered, in summer and winter. It's a unique activity in the picturesque setting of Old Montréal on the shore of the St. Lawrence River.
Upon presenting a valid STM fare or OPUS card. From opening (10 am) to 1 pm, Monday to Friday. From June 1 to December 31, 2021. Not available on holidays.
The STM is in no way responsible for offers made by its partners, as it is only acting as a middle-man between its transit users and commercial partners for the purpose of promoting their products and services.
Top of page