Rebuilding Complexe Crémazie
Project summary
In summer 2017, we started rebuilding Complexe Crémazie to replace the vast maintenance shops originally built in 1948. The complex will be located at the intersection of Saint-Laurent and Crémazie boulevards. It's design will take into account future requirements for new hybrid and electric bus technologies. A multi-purpose building, Complexe Crémazie will give the STM the flexibility it needs to align its production methods with industry best practices.
The building itself is at the end of its service life. Rebuilding from the ground up will ensure that we can meet current maintenance needs and space requirements related to the growing numbers of buses in our fleet.
---
Duration of the work: Summer 2017 to 2021
Description of the work: Reconstruction of a multi-purpose building
Métro impacts: No
Bus impacts: No
Impact on customer trips
This project has no impact on customer trips.
Impact on local residents
Traffic
We have reserved space for trucks to get around on site. All heavy vehicles will enter and exit the construction site by way of Saint-Laurent boulevard.
Some traffic will be rerouted east of the site, by way of Henri-Julien, to facilitate site movements.
However, only STM cars and small vehicles will use that access, Monday to Friday, from 6 a.m. to 3 p.m. 
Given the type of work being planned, we expect the impact on traffic flow to be minimal.
Dust
We will also control dust within the construction zone and on access lanes by deploying these measures:
Installation of dust screens on worksite partition walls
Cleaning adjacent streets on a regular basis  
Sprinkling water over construction site to lessen dust dispersal
Noise
We are doing everything we can to keep noise to a minimum. Also, a significant portion of construction work will take place inside the walls of the new complex.  
We have built a sound barrier wall and will ensure that we comply with all municipal regulations.
Learn more about the project
The production, machining and equipment units will be located along the same corridor to optimize the transportation and supply of materials.
Administrative offices will also be in the same area to reduce walking distances and encourage collaboration.   
The bus parts refurbishment unit will group together the departments that repair parts. 
Units handling small parts, body work, upholstery and seats will also be located on the ground floor.
A central aisle will encourage efficient employee movements and transportation of materials.  
The maintenance shop is a crucial part in our operations. Modernizing this work area will increase the space between lifting jacks. The height of the shop will make it possible to include two jacks with overhead walkways that will be used for working on the roof of hybrid and electric buses. 
Indoor parking spaces will be included for bus maintenance in winter, making the work easier.
The distribution centre will centralize the activities of the STM's three main stockrooms in a single location.
Lastly, all training will be provided in a single training centre, next to the métro.
Texte important
By regrouping several teams and centralizing their activities, the new Complexe Crémazie will significantly improve efficiency and quality of life, drawing on sustainable development principles. It truly expresses our vision of the future where our operations will blend harmoniously with the surrounding urban environment.
This modern building will feature best practices in sustainable development. We are aiming to obtain LEED Gold certification. The complex will include:
Highly reflective white roofs as well as green roof systems
Natural light
Universal accessibility
Superior energy efficient building envelope
Energy efficient mechanical and heat recovery system
Water catchment and recycling
The simulator is an exact replica of the AZUR driving cabs and used to help operators practice driving. It is now located in the new Complexe Crémazie.
Simulator
The simulator reproduces all aspects of the métro network's environment and driving conditions, allowing operators to quickly put what they learn into practice. Like airplane pilots, métro operators accumulate driving hours in a stimulating and realistic environment. Using the simulator, they practice driving the train in a realistic model of the network that includes all its aspects, passenger flows and unexpected events. This is the last part in a three-part training process, after e-learning and practice with a desktop simulator.
Relocation
The gigantic, five-tonne simulator had to be moved from its former location at Place Bonaventure. To remove it, a brick wall was dismantled and the simulator was secured to a lowboy, a huge trailer capable of carrying very heavy objects. At its new location, the simulator was lifted by crane to the third floor, and a facade was taken down so it could be brought into the room it now calls home.
The project in images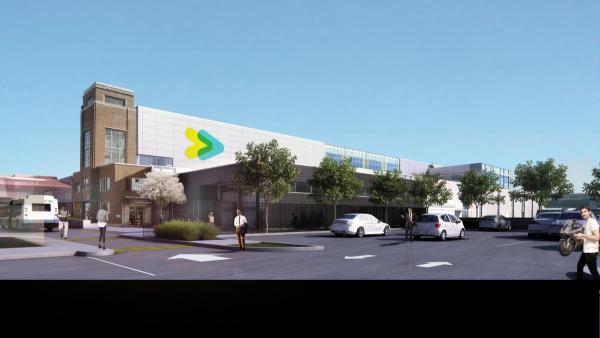 ---
This work is made possible through funding from the Ministère des Transports du Québec.
Top of page