The closure of the Mont-Royal tunnel and the implementation of the temporary network are postponed.
919 Trainbus Acadie / Mont-Royal / Namur
From exo's stations to Namur and Acadie
Trainbus 919 is a temporary shuttle service set up to compensate the closure of exo6 Deux-Montagnes train line between Du Ruisseau and Centrale stations. This shuttle provides a direct link between exo's Canora / Mont-Royal train stations and Namur and Acadie métro stations.
For information on all mitigation measures, visit Mobilité Montréal
Route
919 Trainbus Acadie / Mont-Royal / Namur line serves exo's Canora / Mont-Royal train stations, bound for Namur métro station on the Orange line and Acadie métro station on the Blue line. The shuttle's travel time is about 15 minutes.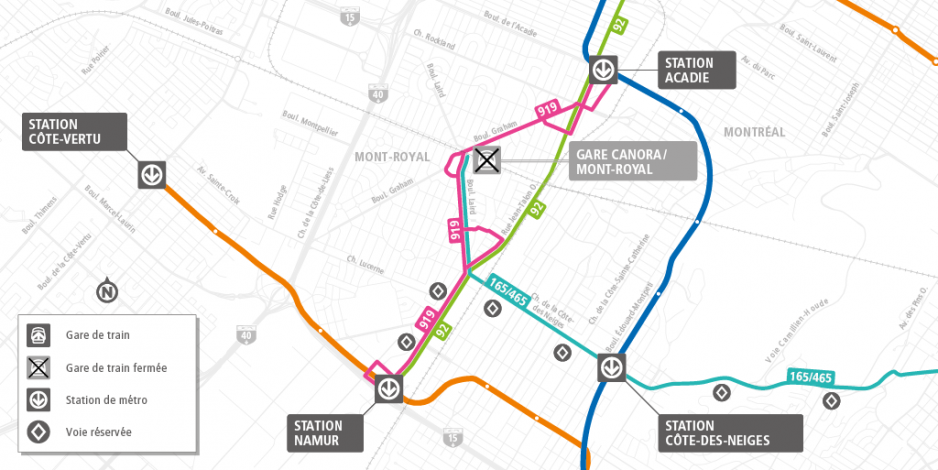 Reserved lane
The 919 runs in a reserved lane on Jean-Talon. The lane will be open Monday to Friday, 6:30 to 9:30 a.m. and 3:30 to 6:30 p.m., on Jean-Talon between Victoria and Mountain Sights, westbound, and between Victoria and Nancy, eastbound.
This lane is reserved for buses and taxis.
Bus type
The 968 will be served by regular urban buses. If ever served by coach buses, here are few tips:
Here are some tips for travelling aboard these vehicles:
You must have a valid transit fare to board the bus, however there will be no fare validation equipment. Payments will be made on an honour system, like in the train. Your fare will be validated at the métro station.
All customers must be seated and wearing their seatbelts.
There is no bell. To get off, simply get up and walk toward the driver.
To ensure fluid travel, take a seat at the front if you are getting off at one of the first stops on the line.
The coach's exterior baggage compartments will not be accessible.
What if the shuttle doesn't go near my location?
Use the trip planner to find the best option.
Fare
Texte important
Customers of exo5 Mascouche and exo6 Deux-Montagnes train lines might be eligible for a fare reduction. More info on exo's website
Valid STM fare
Free for children aged 5 and under at all times.
The Family outings program allows up to five children aged 6 to 11 to ride free during certain periods when accompanied by an adult with a valid transit fare.
Exact change
Only coins are accepted inside the bus (no bank bills).
And there's more!
Do you use public transit occasionally? Here are a few fare cards to suit your needs.
Top of page