Bellechasse bus garage

Texte important
Latest news - April 15, 2019
PREPARATORY WORK - Spring 2019 to spring 2020
Have you noticed that fences have gone up around the worksite? We are preparing the ground to start excavation work on the future Bellechasse bus garage. Over the next few weeks, truck traffic will increase in the area. Please use caution around the site and follow safety instructions and signs.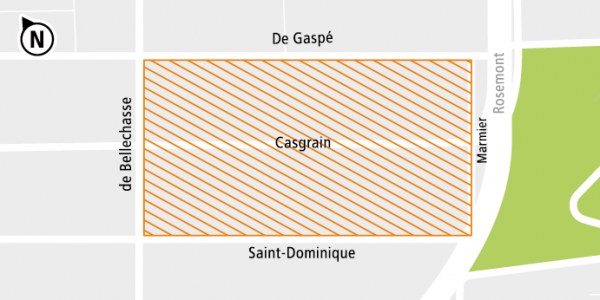 Useful information:
Demolition of the old building will start in April
Excavation work will start in May
Casgrain Avenue is permanently closed between Bellechasse and Marmier streets
Access to the dog park will remain open (entrance Marmier Street, De Gaspé intersection)
New bus garage in 2022
The Bellechasse bus garage will be built on the block formed by De Gaspé Avenue and de Bellechasse, Marmier and Saint-Dominique Streets in Rosemont–La Petite-Patrie. Located in the heart of the city, close to many transportation corridors, it is part of our strategy for receiving 300 new buses. The bus centre will also be equipped with the facilities to house a fleet of fully electric buses.
Cutting-edge technology
The Bellechasse bus garage will be innovative, functional and unique. It will be the first bus garage in North America to be completely underground and equipped with the facilities to operate an entire fleet of electric buses, once completed.
The centre will have two connecting structures: an underground three-level garage where more than 200 buses will be parked and maintained and a ring-shaped two-level building with lots of windows where the administration department, a cafeteria, a gym and a lounge will be located. A fire prevention station and a passager revenue workshop will be also installed in the ring-shaped building.
The centre's operations (bus traffic, maintenance and parking, and employee parking) will be located inside the building to reduce the impact on the neighbourhood.
Finally, a large green space will be accessible to the public.
April 2019 to Spring 2020 : site preparation works
Avenue Casgrain will be closed between de Bellechasse and Marmier streets. Car circulation will be possible on Saint-Dominique and De Gaspé.
Spring 2019: Presentation to the Urban Planning Committee and public consultation.
The work will take place from spring 2019 to spring 2022.
First, we will demolish the old building and remove materials and waste. We will then carry out site preparation, soil decontamination and excavation of the rock bed. Finally, we will build the new building.
The contract will be awarded in spring 2019. The excavation method that will be used by the contractor will be determined at this time. The method will comply with noise and vibration standards and all other current borough-by-laws.
We are aware of the inconveniences this work might cause. Our contractors will respect the prescribed hours. During the week, work and traffic movements must occur between 7 a.m. and 7 p.m.
The STM will also deploy an inspector on the worksite to ensure compliance with standards and implement mitigation measures to reduce nuisances (noise, dust). The contractor must introduce a traffic maintenance plan, wich will be approved by the borough, to reduce impacts in the area.
Once construction is complete, there will be underground parking spaces reserved for employees who must be on duty. During construction, it is the contractor responsability to organize and manage parking for the workers.
Preparation of buses for services delevery to customers.
Preventive maintenance and mechanical repars on buses.
Charging of electric buses (exact technology to be confirmed).
Administrative offices, areas for maintenance employees and drivers.
STM fire prevention station
Passenger revenue workshop
The buiding will have a high-quality environmental design. We aim to obtain LEED v4 Gold certification. The complex will incorporate:
Natural light
Universal access
A buiding envelope with superior energy efficiency
An energy efficient mechanical and heat recovery system
Water catchment and recycling
Recovery of construction materials, when possible
This work is made possible by funding provided by the Ministère des Transports du Québec and Infrastructure Canada.
---

Top of page