747 Aéroport P.-E.-Trudeau / Centre-ville shuttle

24/7 Service
The 747 shuttle service runs 24 hours a day, 7 days a week,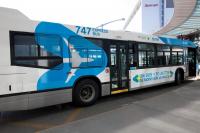 between Montréal-Trudeau airport and downtown.
Starting June 19, two route options are available to you from the airport.
Destination Terminus Lionel-Groulx 
    -  A single stop
    -  Travel time from 25 to 35 minutes, depending on traffic
    -  Shown with magenta-coloured line on map below
Destination Centre-ville (downtown)
    -  11 stops
    -  Travel time from 45 to 70 minutes, depending on traffic
    -  Stops at hotels on boul. René-Lévesque
    -  Terminus stop at Berri-UQAM métro station
    -  Shown with lime-coloured line on map below

Want to save time?
To reach your destination, we suggest to take the bus named Terminus métro Lionel-Groulx. The bus driver will let you off at Lionel-Groulx métro station, a transfer station equipped with an elevator. This way, you can go on to your hotel faster (roads and highways into the city sometimes experience heavy traffic, just as other big cities!).
What is your destination station? Does it have an elevator?
Complete your trip and welcome to Montréal!
Shuttle timetable and hotels nearby
Planibus timetable for 747 Aéroport P. E.-Trudeau/Centre-ville shuttle (PDF 1,03 Mo)
Fares
The cost of a ticket is $10. In turn, it offers you unlimited transit use on STM's bus and métro networks for 24 consecutive hours.
The following fares are also accepted on the 747 at no additional cost: 1-day and 3-days passes, Unlimited Weekend, Weekly or Monthly regular or reduced passes, 4-month pass and monthly TRAM passes zones 1 to 8.
Different points of sale to purchase transit fares
At the P.-E.-Trudeau airport:
There is four fare vending machines in the international arrivals area. Payment in cash, by debit card or with VISA or MasterCard credit cards are accepted.
For more information, you may inquire at the STM information counter located in the international arrival area or ask one of the STM representatives near the bus stop outside the airport
Before leaving for the airport, buy your fare:
In métro stations
At the Tourist Welcome Office in Old Montréal
At the Centre Infotouriste
At Stationnement de Montréal (Parking) pay stations
Customers who want to go from downtown to the airport but who don't have $10 in coins, or the proper fare card, can now purchase a ticket for the 747 shuttle bus from one of ten Stationnement de Montréal pay stations.
Keep in mind: A ticket purchased from a Stationnement de Montréal pay station is only valid for a one-way trip to the airport and must be used within two hours of purchase.
HOW?
Identify the nearest participating Stationnement de Montréal pay station on neighbourhood map posted at bus stop (or see map below).
Go to pay station identified by blue P$ sign.
Enter the numbers 0747 and follow on-screen instructions.
Take ticket and use it within two hours of purchase.
Give ticket to driver who, in turn, will hand you a proof of payment. This proof of payment is also valid for two hours on the bus and métro network. Note that it can NOT be used for return trip on 747 or to interrupt trip and resume it later on 747.
Pay station accepts payment for 747 every day, 24 hours a day.
Stationnement de Montréal Info: 514 868-3737
Grey dots show location of participating Stationnement de Montréal pay stations. 
Texte important
The ticket purchased at a Stationnement de Montréal pay station is only valid for the westbound 747 (to airport).
Only those pay stations located near westbound 747 bus stops sell tickets for the 747 bus (see map).
The ticket purchased at a Stationnement de Montréal pay station is only valid for boarding at stops marked on map above.
In the bus:
The $10 fare can also be paid in cash with exact change on the bus.
Only coins are accepted (no bank bills).
Stowing luggage and bicycles aboard the 747 bus
The STM complies with Highway Safety Code regulations.The Code stipulates that all luggage /  equipment on a bus must be stowed to ensure that :
Driver can move freely aboard bus and efficiently operate vehicle ;
Passengers have unobstructed access to all exits ;
Passengers are protected against injury from falling or shifting items carried on the bus.
Bicycles are accepted aboard 747 shuttle buses under certain conditions :
Bike must be stored in a rigid travel case made for shipping ;
Folding bikes are also accepted, but must be placed in a soft carrying case ;
Bikes must be placed on the luggage racks
Please note that bus drivers may refuse customers travelling with bike case or any other type of luggage to avoid hindering other passengers aboard. Drivers may ask customer to wait for the next bus.
Be advised that two types of buses are used to operate the 747 shuttle.
 Size of luggage racks:
One type of bus has 1 rack at the back of the bus:
152 cm wide, 68 cm deep, and 177 cm high (approx. 5 ft by 2ft by 6 ft)
The other has 3 racks (2 in front and 1 at the back) :
152 cm wide, 68 cm deep, and 101 cm high (approx. 5 ft by 2 ft by 3.5 ft)
121 cm wide, 68 cm deep, and 101 cm high (approx. 4 ft by 2ft by 3.5 ft)
121 cm wide, 68 cm deep, and 182 cm hign (approx. 4 ft by 2 ft by 6 ft)
Top of page