The Société de transport de Montréal (STM) announces it is opening a new reserved lane through Ahuntsic-Cartierville and Saint-Laurent boroughs, along rue Grenet, next Monday, October 6, 2014.
Montréal, October 1, 2014 – The Société de transport de Montréal (STM) announces it is opening a new reserved lane through Ahuntsic-Cartierville and Saint-Laurent boroughs, along rue Grenet, next Monday, October 6, 2014. Nearly 15,000 daily trips taken on the 64 – Grenet and 468 – Express Pierrefonds/Gouin bus lines will benefit from this measure. Transit users riding aboard the 68 – Pierrefonds, 69 – Gouin, 126 – Polyvalente Émile-Legault, 128 – Ville Saint-Laurent, 164 – Dudemaine and 170 – Keller lines will also gain an advantage from this measure along a portion of their commute.
At 4.9 km in overall length (both directions combined), the reserved lane will be operational on weekdays, from 6:30 to 9:30 a.m., southbound between De Mésy and Deguire, and from 3:30 to 6:30 p.m., northbound between Deguire and De Serres. Furthermore, the addition of bus priority traffic signals (white candlestick lights) for use during off-peak periods is also planned by the city of Montréal, in a second phase of work ending in summer 2015. The traffic signals, where installed, give buses priority to go through a given intersection.
« As it was announced last spring, this is the third reserved lane, 100% funded by the MTQ, that we have opened in a few short months. With eight bus lines, rue Grenet is a heavily-used transit corridor, and the priority measures being deployed will result in better transit service for customers. Indeed, some 55% of all commuter travel on rue Grenet during morning and afternoon rush hour is by bus, » declared Philippe Schnobb, chairman of the STM board of directors.
« The bus preferential measures deployed along rue Grenet within these two boroughs will not only serve to improve the performance of bus service in that corridor, but will also improve access to métro and commuter train lines, thereby promoting the use of a mix of public transit modes, » added Aref Salem, city of Montréal executive committee member in charge of transportation.
« Of course, Ahuntsic-Cartierville is helpful with all STM initiatives aimed at improving public transit services. In that sense, allow me to draw attention to the contribution of Harout Chitilian, city councillor for Bordeaux-Cartierville, who worked many hours on this project, particularly with regards to relations with citizens who live on rue Grenet, » explained Pierre Gagnier, borough mayor for Ahuntsic-Cartierville.
« I am delighted with this new bus/taxi reserved lane opening up on rue Grenet, as it encourages citizens to use active and public means of transportation to access their home and workplace. This announcement confirms the determination shown by Saint-Laurent to create solutions to single-occupant car use, and therefore improve the quality of life for its fast-growing population, » declared the mayor of Saint-Laurent, Alan DeSousa. « Expanding the offer of public transit service and shared car use, improving conditions for pedestrians, developing a network of bicycle paths, ensuring better control over truck traffic, enhancing the road network and reviewing how parking space is managed are also some of this administration's achievements in the short- and medium-term since 2009. »
Bus priority measures (BPM) consist of installations on the road system that ensure priority is given to public transportation, thereby improving the reliability and on-time delivery of service. They include reserved lanes and bus priority traffic signals that can cut down travel times by about 10%. So far, the STM has reserved lanes on 183 km of roadways and 116 intersections are equipped with priority traffic signals. The STM hopes to reach its target of deploying bus priority measures over 375 km by 2017.
Official photo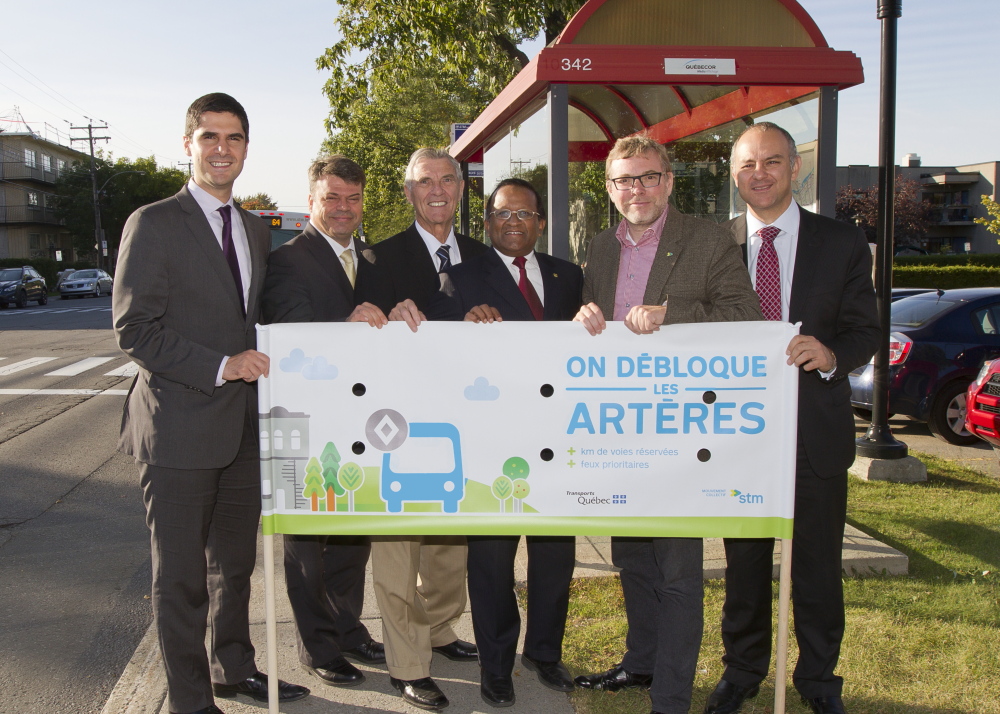 From left to right : M. Harout Chitilian, conseiller de la ville - District de Bordeaux-Cartierville et Vice-président du comité exécutif responsable de la réforme administrative, de la jeunesse, de la Ville intelligente ainsi que des technologies de l'information, M. Marc Bélanger, directeur de la planification des réseaux à la STM, M. Pierre Gagnier, maire de l'arrondissement Ahuntsic-Cartierville , M. Alan DeSousa, maire de Saint-Laurent, M. Philippe Schnobb, président du conseil d'administration de la STM, et M. Aref Salem, conseiller de la ville – District Norman-McLaren et membre du comité exécutif de la Ville de Montréal et responsable du transport.
Crédit photo : Louis-Étienne Doré
–30–
Isabelle A. Tremblay 
Direction principale – Affaires publiques 
Société de transport de Montréal (STM) 
Téléphone : (514) 280-4940 
isabelle.tremblay@stm.info
Andrée-Anne Toussaint 
Attachée de presse 
Cabinet du maire et du comité exécutif
514 243-1268
Robert Dolbec 
Directeur de cabinet 
Arrondissement d'Ahuntsic-Cartierville 
Téléphone: 514-872-5228
robert.dolbec@ville.montreal.qc.ca
Céline Vaillancourt 
Chargée de communications
Arrondissement de Saint-Laurent
Téléphone :   514 855-6000, poste 4315 
celine.vaillancourt@ville.montreal.qc.ca