Texte important
October 7, 2021
The Richelieu rectifier station is located near the currently operational Richelieu ventilation station. Due to technical circumstances at the ventilation station, some noise may have been heard in the area recently. However, this noise was not caused by work at the Richelieu rectifier station.
To minimize the impact on local residents, the ventilation station will only be activated on an exceptional basis. It will also be activated occasionally to conduct testing, only for short periods (a few minutes) and only during the day.
Project summary

As part of our métro asset maintenance program, we will begin maintenance work on the Richelieu rectifier station in September 2021.
This work will ensure that the rectifier station remains operational for years to come. It will also ensure the reliability of the métro service.
Duration of the work:  September 2021 to winter 2022
Description of the work:  Renovation of the existing rectifier station
Impact on métro service: None
Impact on bus service: None
Impacts on local residents
Part of the work will take place inside the Richelieu rectifier station. However, the noise generated on the worksite during the exterior work could carry to the nearby residences.
Trucks will need to be present on the worksite. This will not, however, impact local traffic or cause closures on De Richelieu Street.
The work will take place from Monday to Friday starting at 7 a.m., in accordance with municipal by-laws.
Work may occasionally be done on nights and weekends inside the rectifier station, but this will not create noise or inconvenience nearby residents.
Area map with worksite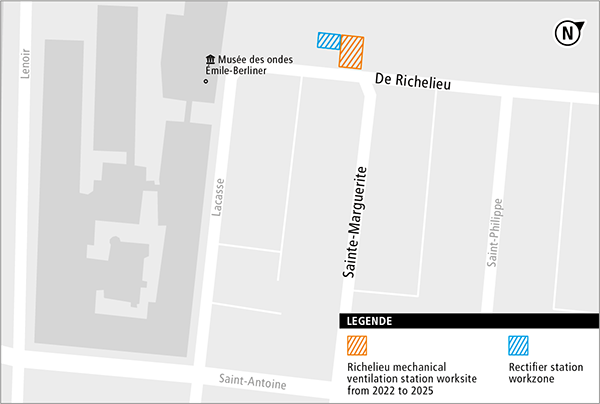 Description of the work:
Replacement of technical equipment inside the building
Replacement of the transformer's concrete base
Replacement of low walls and fencing
Learn more about the project
This work, which will last about five months, aims to ensure that the rectifier station remains operational for years to come and that the métro service is reliable.
Although the upgrade to the rectifier station will occur on the same site as the Richelieu mechanical ventilation station, the work being done is unrelated to the mechanical ventilation station. 
We care about the quality of life of residents living close to our facilities. Rest assured that we will take all measures necessary to minimize the work's impact on your activities.
What is a rectifier station?
A rectifier station holds equipment that is necessary to supply electrical power to the tracks in the métro. There are 63 such rectifier stations spread out in the network, with most of them located between métro stations.
Top of page