Tips for travelling smart
Be the first to know
Get alerts about métro service disruptions.
Customize your alerts to suit your needs and choose between email or text alerts. Service updates are also available on Twitter from our four métro accounts (@stm_Verte, @stm_Orange, @stm_Bleue, @stm_Jaune) and the new @stm_bus account. Follow us!
Subscribe to our alerts by creating a My STM account.
Stock up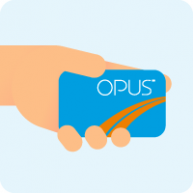 Load up to three 10-trip fares.
If you've been going out less since the start of the pandemic, you may have already switched to using our 10-trip fare. These fares never expire, so you can stock up on them with your OPUS card to make sure you don't run out.
Protect your fare balance by registering your OPUS card. You will be able to keep your fares if you lose your card.
Reload while staying home
Use the OPUS card reader.
For only $19.60, the OPUS card reader lets you skip the line and buy any transit fare, anytime, without leaving the house.
Buy your OPUS card reader now
Keep your distance on the bus
Check your bus's real-time occupancy level. This new feature is available on our mobile site, our website and on the Chrono and Transit apps.
Learn more on bus occupancy level
Keep your distance on the métro
You can also check the occupancy levels of our Azur trains on the Orange line. Just look up!  They're shown on the Métrovision screens at Orange line stations.
Learn more on métro occupancy level
Pay faster than ever
You can now pay by card at all métro station fare booths for fast, contactless transactions.
Put your mind at ease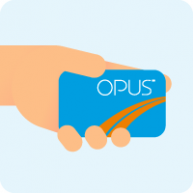 Register your OPUS card, and if it's ever lost or stolen, you'll be able to get your balance back.
Top of page